WNC-M25MPE3
Platinum Edition Embedded Configuration Modem
Delivering performance under the toughest environmental conditions, Subnero's platinum edition modems are designed to meet rigorous quality standards mandated by sectors such as defense, oil & gas and subsea engineering.
Key Features
Up to 15 kbps data rate*.
Up to 5 km communication range (horizontal & vertical) in tropical waters.
Ranging functionality with 0.1 m precision.
Doppler resilience of ±4 knots or better.
Support for coherent and incoherent communication schemes.
Support for arbitrary signal transmission as well as recording (passband, baseband).
Support for user defined communication schemes using UnetStack.
Certified for various MIL standards.
* Depending on channel conditions and reliability requirements.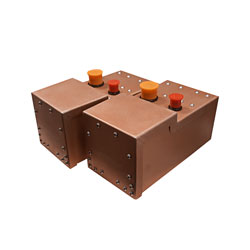 Embedded Configuration
WNC-M25MPE3
Designed with ease of integration and flexibilty as the primary focus, the embedded configuration (EC) is ideal for integration to underwater platforms such as AUV, ROVs or sensor platforms.
TECHNICAL SPECIFICATIONS
Communication
Feature
Details
Modulation (software defined)
PSK-OFDM, FH-BFSK
FEC (Forward Error Correction)
- LDPC (up to 1/6 rate code)
- JANUS (1/2 rate convolution code)
JANUS support
Yes, subject to operating frequency band
Carrier frequency
25 kHz
Bandwidth
12 kHz (20 - 32 kHz)
Software
| Feature | Details |
| --- | --- |
| Framework | UnetStack |
| User interface | Interactive web UI |
| Software interfaces | Java, Groovy, Python, C, JavaScript, Julia, Matlab |
Electrical
Feature
Details
Power supply
22 - 28 VDC (24 VDC recommended)
Power consumption
< 4 W (receive mode, nominal)
< 60 W (transmit mode, avg.)
< 80 W (transmit mode, max.)
< 1.5 W (sleep mode)
External interface
Ethernet (10/100 Mbps), RS232 (115200 bps)
Mechanical
Feature
Details
Hull material
Aluminum
Operating depth
Hull: 300 m
Transducer: 2000 m
Dimensions
SC: ⌀ 127 ✕ 400 mm
EC: 90 ✕ 90 ✕ 180 mm
Operating temperature
SC: 0 to 50 °C
EC: 0 to 70 °C (Electronics), 0 to 50 °C (Transducer)
Supported MIL standards
MIL-STD-810G, MIL-STD-810E, MIL-STD-461E
Workmanship
- IPC class 2A
- Conformal coating
- Environmental Stress Screening (ESS)
Brochures